I look deep into its eyes… one the colour of blue… the other brown and think to myself how wild they look on the outside but how sweet they seem when you gaze into their eyes. "They are smart and gentle animals" Vasilis tells me and goes on to explain that if they don't know you they might not even make milk if they feel embarrassed.
You watch them splashing around in lake Kerkini among so many other species. A beautiful image of nature at its best… the perfect harmony. And this is when it becomes clear to you why this artificial lake, a wetland habitat of rare beauty built in 1932, is protected by the Ramsar treaty and is part of the "Natura 2000" network.
"This is where they spend most of their day. They graze freely and live in the water. Water buffalos I tell you!" The shepherd explains that he takes them to the lake in the early morning and back to the stable every evening. Even the food they are fed comes from their fields. This is the definition of a vertical production unit. The conversation leads to words filled with sweet sorrow "They adored the last shepherd. He called each one by name and they responded! I told you they are clever and affectionate animals".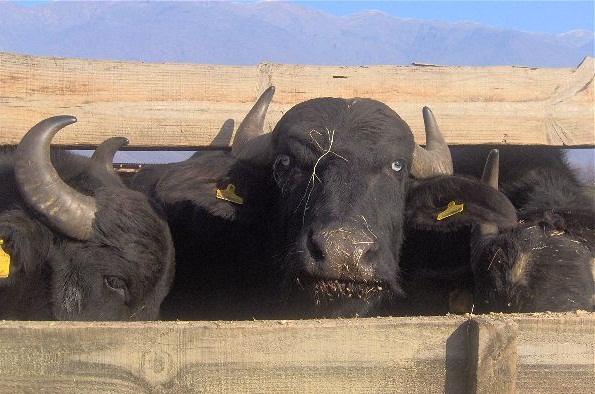 We leave the herd splashing around and head for the stable. This is where the young buffalos live along with the mothers who breastfeed them. On the other end of the stable live the ones intended for slaughter. This is where we find the youngest son of the family, who loves the animals and spends hours with them. Vasilis tells me full of pride that his son is preparing for the American Farm School and I think what a promising enterprise this is. A boy who grew up amongst animals and knows a lot about hard work, in a school that will give him all the tools and skills to look after the animals and also process their meat and create new products. The sweet faces of the young buffalos make me curious and I want to know more about their population.,. but I wasn't prepared for what I heard.
Until 1950 there were 75000 water buffalos in Macedonia Thrace and Thessaly. Now there are barely over 3000. Vasilis goes on to tell me that in the late 1990s they almost became extinct but luckily they entered a program for the protection of rare species and now their population is on the increase. "Most of them are here with us and a few are in Thrace" Vasilis says.
We go on to the butcher shop. His words and my teacher's words come to my mind. "During the 5th century BC Xerxes' army invaded Greece. Buffalos were the basic medium of transport at the time and because of their strength and stamina they were the ones carrying the provisions of the great Persian army." And there is also the story that the local buffalo shepherds like, but historians have never cared for. A story that tells of the wild animal attack on the buffalos of the Persian army after they crossed the river of Strymonas. Part of the herd is said to have scattered and the rest is said to have remained in the area.
So these animals, appreciated over centuries for their strength and nutritional value of their meat, almost became extinct. Agricultural machines replaced them. New cow races were imported because they were able to give more milk and meat. And that is how quantity became more important than quality. Fortunately, people like Vasilis and Eleni decided to invest in quality and tradition thus contributing greatly to the revival of the Greek water buffalo.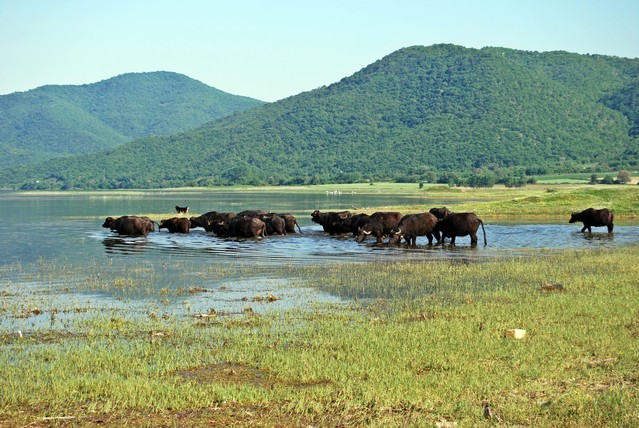 Eleni is waiting for us when we reach the butcher shop. She is holding a plate of buffalo kavourmas. "It is 100% buffalo meat made with our recipe. The only thing I can tell you is that the meat is boiled in its juices for 4 hours on low heat with a little pepper salt and allspice. I taste it and and think that this the perfect combination of an excellent raw material, a simple procedure and pure pleasure that creates a wonderful result.
I have witnessed through images and taste how this traditional cured meat product from the time of our grandfathers has passed on to a greater level of taste and nutritional value. Kavourmas started out as a way of preserving the meat for a longer time and now it is an amazing, delicious and nutritional treat. And the best part is that now you do not need to keep it in a jar with fat or in a cellar. All you need is air tight packaging and a fridge to enjoy it in The Netherlands!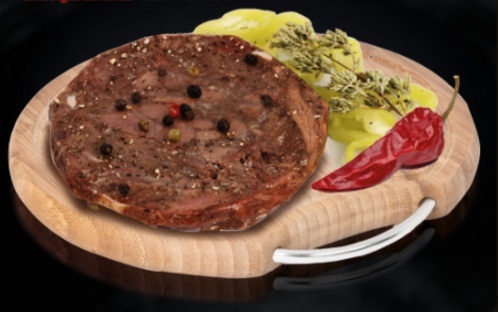 I am already creating images of dishes based on kavourmas in my head! I am imagining the masterpieces that can be created based on this amazing product. "It is great in omellettes" Eleni says! And I think "Yes, this is it" .The "wonder of Kerkini" I name it. This special cured meat, eggs and the "powder of Kerkini" meaning the pollen from the area. Some buffalo cheese to melt inside would also be a great idea… but the tasty goat "Tsantilaki" will do fine I think. I won't tell them about it yet. I will try the recipe and then send it to them.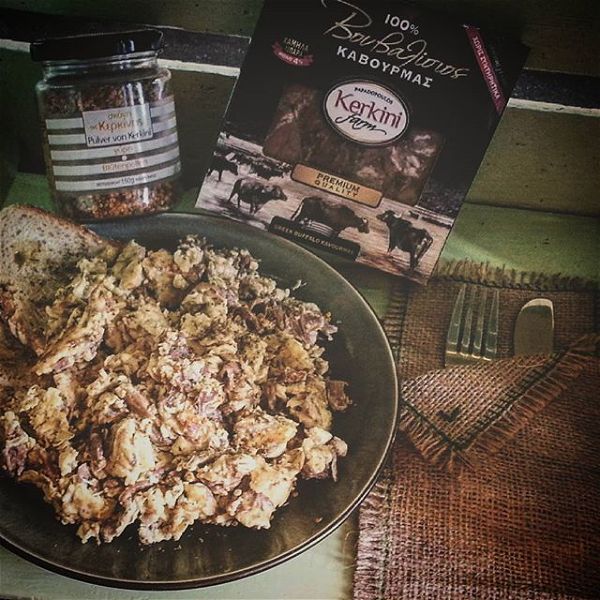 Before I say my goodbyes, I learn one more thing. Their eldest son is already studying Business Administration . "He likes clean work" Vasilis says while laughing and points towards the office and the computer. "How well the family has taken on different roles" I think and leave feeling happy and optimistic. Assured that this venture has a great future ahead of it.
I can only promise one thing…that the "greek foodtales" team will give them our full support!