We, greek foodtales, believe that culture is a way of living. We understand culture as a treasure that is part of our collective memory, of our perception of ourselves. It includes our values, beliefs, customs, languages, food & traditions.
Culture is Theater! Culture is us! We make it! We shape it as we love it to be! 
We support the theatrical performance "Under the stars – Οι κάτω απ'τ'αστέρια"!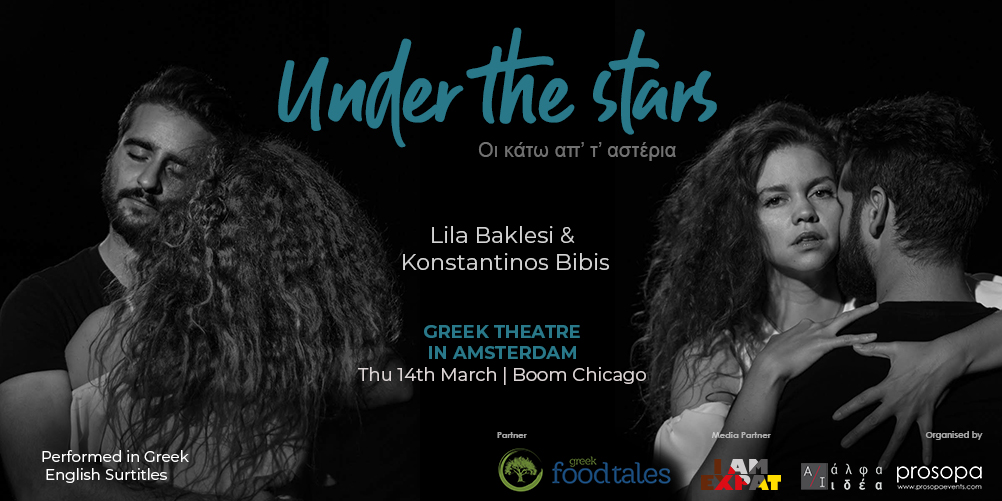 "Under the stars – Οι κάτω απ'τ'αστέρια", a very successful Greek self-exploring comedy/drama, written by Tilemachos Tsardakas. A theatrical play that will be presented in Amsterdam (14/3) by Prosopa Events & Alfa Idea.
Late 80s, early 90s. Small Greek town on an Aegean island. Menia & Nickolis go to the same school, spend their summer holidays together, dream together, fall in love "for ever". Years go by but between them, there is a wild fire burning. What will happen when they meet again? "Under the stars – Οι κάτω απ' τ'αστέρια" is the bittersweet story, which takes place on a Greek island, between two young people who leave their timeless mark on each other. The final showdown of two lovers trapped by their choices. A meeting full of emotion, humour, conflict & nostalgia.
Lila Baklesi & Konstantinos Bibis, two of the most talented actors of the new generation, bring to life the great expectations & the harsh reality of a love story in a uniquely engaging way.
Performed in Greek with English surtitles
Tickets now available: https://www.prosopaevents.com/under-the-stars
For more information visit: www.prosopaevents.com