On the 29th of August 2015 "greek foodtales" was created… fast forward 366 days and we come to today! So yes, we are 1 year old (even with an extra day in the year), and yes, we want to celebrate it our way… By inviting you to join our food contest! The process is simple:1.Choose at least 3 ingredients from our webshop. www.greekfootales.com2.Use your imagination and create your own recipe. It could be anything you desire – salad, appetizer, main course, dessert, even a cocktail!
To "stir up" your imagination we gathered some awesome recipesHERE!3. Post the photo or video (max 3min) of your recipe, including the "greek foodtales" ingredients on facebook or instagram. Remember to add a description and the #greekfoodtales so we can track you!
And that is it! You are now eligible to win VIP tickets, great discounts and delicious gifts!
If you don't have a social media account and you still want a chance to win, you can send your picture or video to info@greekfoodtales.com . Please make sure to give us permission to use your photo on our social media. 

The Prizes:
The 2 creative "chefs" will be announced on October 15th, 2016.1. Two VIP tickets for the performance of "Antigone" by the International Theatre in English, directed by Theodora Voutsa, with a cast of 30 international actors. The VIP ticket includes wine and hors d' oeuvres upon arrival, priority seating in VIP area and more. (For more information visit www.theodoravoutsaproductions.com)
Two VIP tickets for the performance on November 4th and two VIP tickets for the performance of November 25th. The dates are not transferable, the tickets however are.&
2. 10% discount for a whole year on our webshop (any amount of orders, any amount per order). Yes, we are serious!
&
 3. All participants of the "We Love Food" Contest have a 10% discount for their next order! 

How YOU can win:
1. Deadline for submissions is September 30th, 2016. A pre-selection will take place based on the creativity of the recipe and the photo/video.
2. The pre-selected recipes will be posted online so you can vote for the 2 best ones.Do you love food? 
Be a Chef!

Create, Inspire & Win!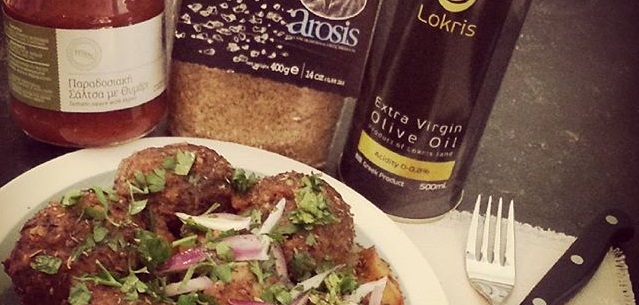 By participating to to the contest you agree to the following terms and conditions:
1. The participants agree to all the conditions that are mentioned in the declaration of the contest.2. No participants are allowed that have an up to second degree relationship to the owners and the workers of Greek Food Tales CV.3. The participants agree that their photos, videos and material shared by them as a part of this competion belong to Greek Food Tales CV, and can be used by Greek Food Tales CV for any legal intents and purposes, as far as they do not insult in any way the participant as a person.4. The materials shared by the participants are judged by the owners and tasters of Greek Food Tales CV and no appeals are or insults to the decisions are accepted.5. The run-time of the competition is from the 30th of August 2016 until the 30th of September 2016.6. All participants should be 18years old or older.7. The terms and conditions can be changed without prior notice to participants.