Create & Share your own Foodtale...
Are you looking for another dull food basket to gift
or for a delicious foodtale basket that will amaze?
We, at "greek foodtales", offer a wide range of premium Greek food products & drinks but also cosmetics, kitchenware & cooking books. In order to create your tailor-made gift basket, you can start by browsing our webshop & choose the delicacies that suit your taste. Then, our experienced team, will assist you with your pre-selection to personalize it to your needs & fit it to your budget. When the final selection is made, we take care to pack it nicely in craft boxes or bags & deliver it to you or the people we are going to make happy!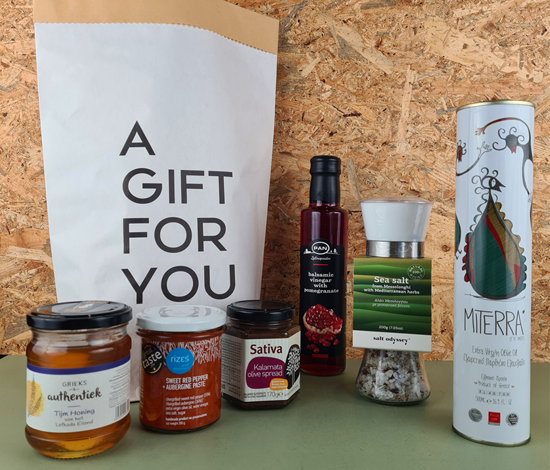 Genuine Corporate / Christmas Gifts with Greek Essence
Make your Employees &
Collaborators Happy in Style!
Contact us on time in order to create together the gift basket you want & in the volumes you need. We can either deliver them to your company in order for you to share them with your employees but we can also ship them individually to your collaborators with personal notes/wishes!
Travel the Senses of your Beloved Ones to Greece
In Search of a Gift for your Family Living Abroad or a Present for your International Friends?
Do you want us to send your present immediately to the receiver? Then simply make your order online & add his/her information on the shipping details. Add in the comments that it is intended for a present & the message you want us to include in it.
Do you want to get the products & make the gift box on your own?
Then simply make your order online & include the gift bag or box you want to use from the options we have. In case you are doubting about the bag/box size you need do not hesitate to contact us!
*Notice: We advise you to avoid frozen &/or refrigerated products!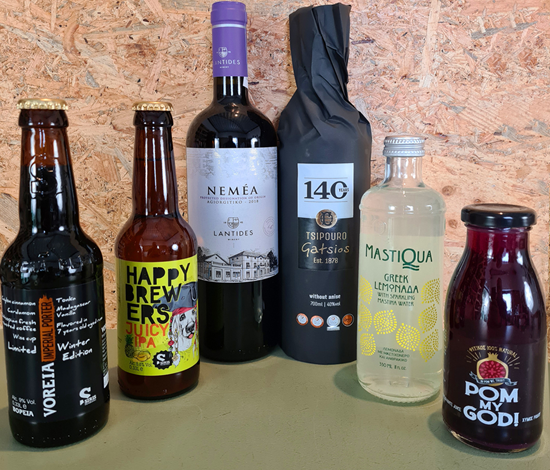 We add in the gift baskets our experience & style together with your taste & budget in order to create with utmost care unique "greek foodtales" for your personal presents or corporate gifts…