Time for another product comparison through the eyes of a "Food Scientist"… & this time we will see how much Greek & traditional are your pork & leek sausages!
Let's start with the most expensive to be found in the Dutch market (left in the photo)… The ones with Greek Black Pig, which actually have only 22% of this & 65% of EU pork meat. Next to that, we see an extensive list of additives & among them, the most striking are the dextrose & glucose syrup but also the MSG (Monosodium Glutamate) flavour enhancer. The plus point is that the product is in a natural casing. The absence of water in the list can be a sign that the meat used for production is frozen since water in the form of ice is used when you make those meat pastes to avoid overheating in the cutter.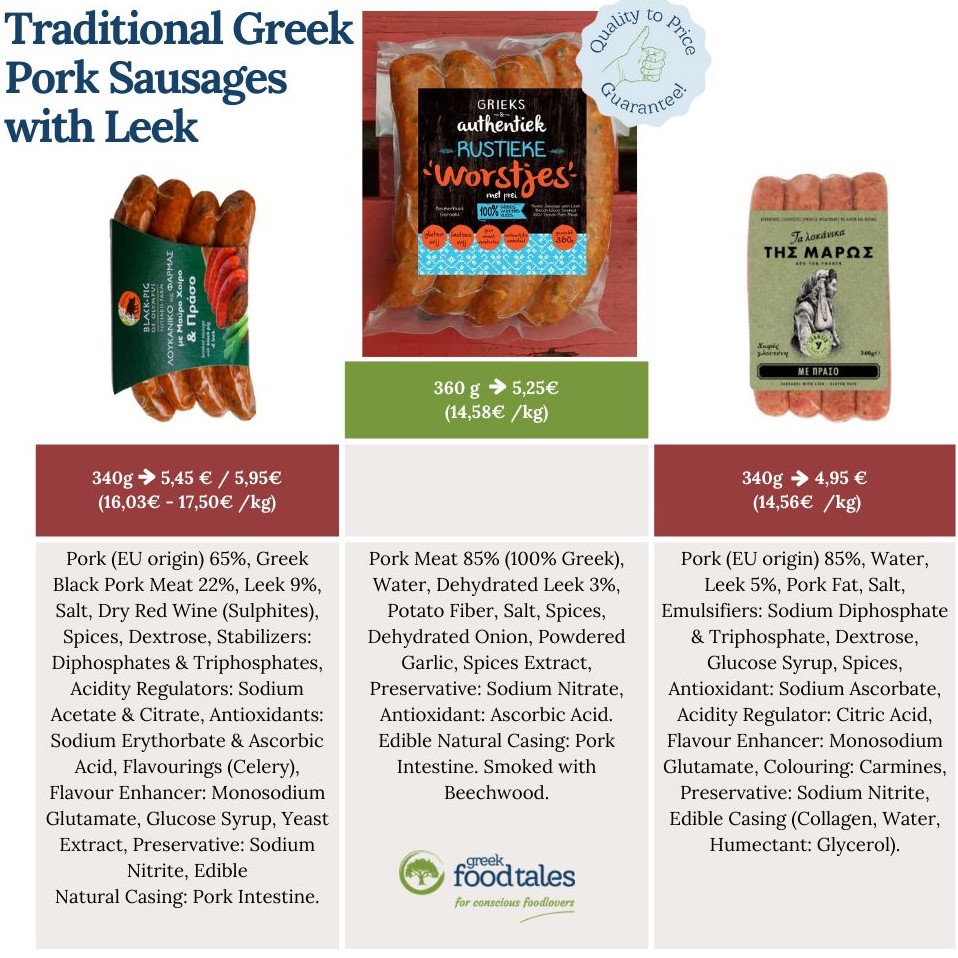 *Product Prices were taken on 19/12/22
Then we have another brand that has a similar price to our product but (right in the photo)… it is made exclusively from EU pork meat & in a synthetic collagen casing. It has also extra fat in the recipe that lowers the costs & masks possible lack of flavour. Furthermore, next to the dextrose, glucose syrup & flavour enhancer, it also has an artificial colouring (Carmines).
Finally, we go to our brand which is produced by "Kerkini Farm" & their high-quality Greek pork meat according to our recipe. We use dehydrated leek in a smaller amount than the normal of the other 2 brands but in the end product, the leek presence is more intense since there is no moisture loss anymore during the process (on the contrary there is partial rehydration). We don't use any additives like dextrose, or glucose & we use potato fibers as emulsifiers/stabilizers. We also don't have any artificial colouring or flavour enhancers since the high quality of the meat offers exceptional flavour itself. We also use a natural casing. Yes, we use sodium nitrate as a preservative too (like the other two). This was our sacrifice to have a product with a shelf-life of 4 months. So, we can produce the amount we need per batch & be able to sell all of them on time & not waste a single one!
On which traditional sausages are you going to invest from now on?
Update 13/11/23: The cost for our sausages is 5.45€ & for the ones with the Black Pig from 5.50€ to 7.30€! The 3rd one is already out of the market for quite some months now!